Block USA Helps to Knock a Pensacola Grand Slam Right Out of the Park
Challenge:

:

Provide an attractive ballpark for the city of Pensacola, FL
Solution::
Block USA Paver and Retaining Wall Units
Project Details::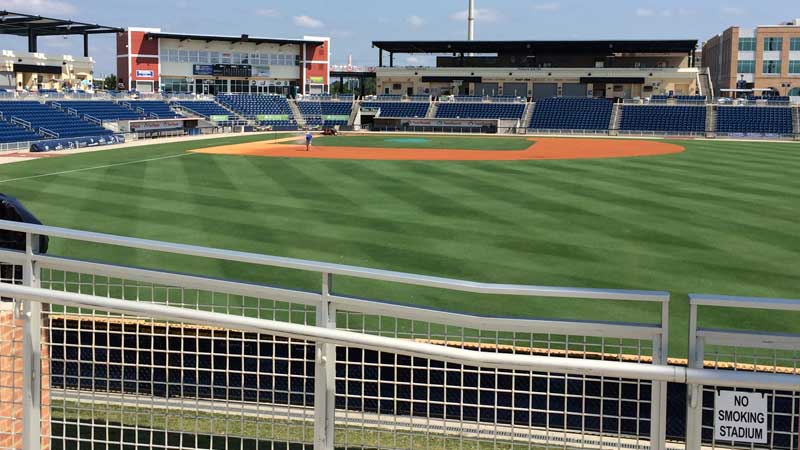 Block USA is proud to be a part of a multi-use, public-private park development on Pensacola's waterfront.
Encompassing a multi-use stadium, amphitheater, festival grounds, and exhibition grounds, the development is home to the Pensacola Blue Wahoos minor league baseball team, the AA affiliate of the Cincinnati Reds. Block USA's pavers and retaining wall units were both used to construct the stadium, which accommodates over 5,000 people and is considered one of the most premier facilities in minor league baseball.
Providing one of the best views in sports, with the scenic Pensacola Bay beyond its outfield walls creating a unique backdrop, the stadium was named the 2012 Ballpark of the Year by Baseballparks.com. An extensive number of Block USA pavers and a retaining wall were used to complete the structure, which was designed by Jerry Pate Company (which represented the city for the complete project) of Pensacola.
To meet the engineer's specifications, Hardscapes USA, a division of Block USA, manufactured pavers in a number of unique colors and patterns. "We came up with new color combinations specifically for this project," says Sterl Rainer of Hardscapes. "Our product needed to blend in with the rest of the development, so we put extra effort into that aspect of the manufacturing process."
Steve Dana, Senior Design Associate at Jerry Pate Co., says the concrete retaining wall and pavers were selected for their cost-effectiveness and ability to blend well with the project's natural surroundings. In place for two years, he says the pavers and the wall have played a role in the overall success of a very important development for Pensacola and the surrounding community. "This project has been a huge success," says Dana, "and as far as these two construction elements go, we've had no maintenance or follow-up issues at all. It was a very good choice."