Permeable Eco-Priora Pavers Solve Homeowner's Soggy Side Yard
Challenge:

:

Prevent Water Runoff from Ruining Home's Side Yard
Solution::
Eco-Priora® Permeable Pavers
Project Details::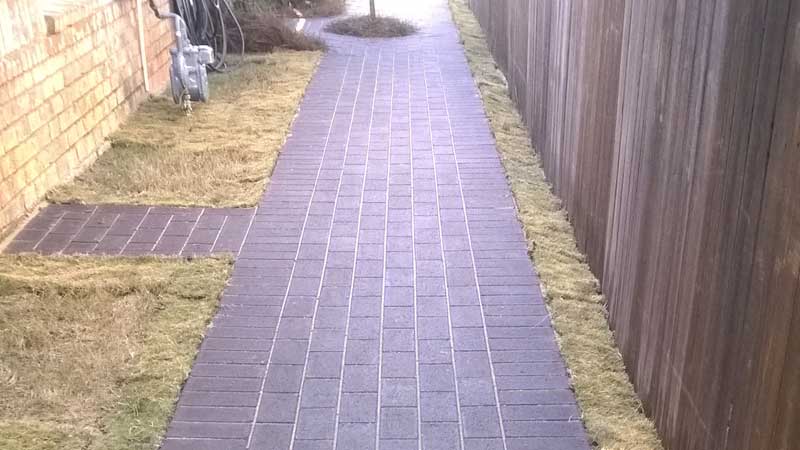 A homeowner contacted Scott Leach with Southern Paver Systems with a problem. One side of their home was constantly wet and mildewed. Heavy clay soils surrounding the house held water, making for a swampy side yard. The owner wanted a walkway so he didn't have to traverse the soggy soil.
"The side of the house where this walkway was constructed abuts a higher property, and that water drains into the customer's yard," says Leach. "Also, the home does not have gutters, and the pitch and design of the roof also dumps water into this part of the property, so the ground, which is primarily a heavy clay, was staying wet," he says.
Leach knew the area would need some kind of drainage system. And, past experience taught him that concrete pavers would be an ideal way to solve the saturated situation. But which product? After looking at all the options, the homeowner finally settled on the Eco-Priora® unit manufactured by Block USA.
"A traditional walkway was considered, but water would still be a problem with no guttering system," says Leach. "We proposed to resolve the issues by first burying a six-inch perforated pipe in a crushed #57 bedding, topped with four-inch #57 crushed stone tapered to drain to the pipe. This pipe then drains off of their property into a drainage system."
Leach says the #57 stone was overlaid with filter fabric, then a typical one-inch layer of bedding sand was installed for the pavers. That same coarse sand was used in the joints. A hidden concrete edge restraint holds the pavers in place on all exterior sides. In this design, storm water drains through the spaces between the pavers and into the subsurface stone. From there, the water filters into the drainage pipe.
The finished brick-like walkway, complete with landscaping, adds curb appeal and value to the once wet spot. "Now they have an walkway that's not only attractive, it'll handle their water issue as well," says Leach.
About Eco-Priora®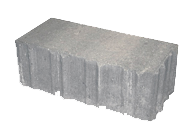 Eco-Priora® has become the permeable paver of choice among design professionals. The flat surface and minimal chamfers of Eco-Priora make it well-suited to pedestrian areas like the walkway of this private residence. The units feature interlocking spacers that offer advanced interlocking capability under traffic loads compared to other rectangular permeable pavement systems on the market.
Eco-Priora® pavers are ideal for residential, municipal, and commercial applications, such as walkways, patios, driveways, courtyards, plazas, retail areas, entry areas, parking lots, and streets. It can be installed in a number of patterns such as herringbones, running bond, and basketweaves.