Permeable Pavers Maximize Hospital's Parking Area
Challenge:

:

Contain stormwater runoff and reduce the need for retention ponds.
Solution::
SF-Rima™ Permeable Concrete Pavers from Block USA.
Project Details::
Sacred Heart Hospital is the oldest Catholic hospital in Florida. Built in 1915 in Pensacola, the hospital was a joint effort between a group of local citizens and the Daughters of Charity. The Daughters are a religious order founded in 1633 that is dedicated to care for the poor and the sick. The Daughters community was started in France by St. Vincent de Paul and St. Louise de Marillac.
About SF-Rima™ Pavers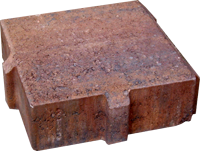 SF-Rima™ pavements are the solution to deal with stormwater runoff. They are very effective in providing infiltration at the spot, allowing rainwater to pass through joints between the stones, through aggregate layers for temporary storage, filtering, and treatment and eventually it is released to the ground water. Drainage openings 9-10%
SF-Rima permeable pavements can reduce runoff of almost 100% from frequent, low intensity and short rainstorms. The long-term infiltration rate is estimated at 3.8 in./hr. for a 20-year life. It is recommended however, to provide drainage swales to handle flows that exceed the design rainstorm.
SF-Rima™ pavements are eligible for LEED credits under the U.S. and Canadian Green Building Councils guidelines.